Phil and Rocky Shoemaker came to Alaska in the 1970s. I'd known them in Flagstaff where we paddled in the same riverrunning circles. Since then they've worked as hunting guides, homeschooling two kids during long winters out in the bush.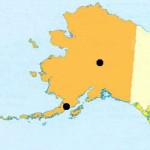 When I first came to Anchorage in 1986 to deliver babies for a month during residency, I wondered where and how the Shoemakers were. On a weekend visit to Denali National Park, I was startled when a bushy-bearded man in camou fatigues stuck his face in mine and roared, "YOU'RE MICHAEL COLLIER!" I couldn't deny it.
Phil and Rocky, with kids in tow, were on their way down to Anchorage. Taj and Tia, four and six years old then, played like bear cubs in our apartment living room, but they also spoke to us adults with a directness and confidence that could have only grown out of a wildly independent upbringing. Phil left ten pounds of moose in the refrigerator where my wife Rosey and I were staying.
Twelve months later, as four years of medical school and three years of residency were winding up, I was invited to write and photograph a book about the geology of Denali. I planned to camp beneath the wing of my Skywagon for two or three months while researching the book. Rosey had had enough of the rain and bears, though, and declined my invitation to tag along. I would start a life tethered to medicine soon enough; this would be a last chance to be feral.
The Buzzard and I entered Canada in early July on our way up the Alaska Highway. The weather was miserable; we made a couple hundred miles a day from Fort St Johns through Whitehorse, but broke into the clear as we crossed the border at Northway. Arriving at Denali, the Park Service, for whom I was doing the book, was kind enough to give me the key to their gas tank for the duration. If I wasn't hiking, I was flying and photographing. Not bad duty if you can get it.
One day, while up in Fairbanks working at the university's library, I looked up Phil. He needed to run supplies to his camp along the Porcupine River, more than his Helio Courier could carry. I still needed to repay him for the moose steaks, so I volunteered to fly alongside. Early the next morning he and Rocky showed up at the airport with a Dodge Powerwagon stuffed to the gills. Phil, with a thousand Alaska hours in 180s, loaded case after case of canned food and cots into the back of the Buzzard. When the wheels began to spread apart, I asked what he thought about the weight. "Oh, you got 'bout half a load." He was less merciful to the Courier. When no more would fit, he climbed in and Rocky gently stashed one-gallon cans of Chevron Blazo just behind his seat and around his head.
We flew north across the Arctic Circle, then north some more, then north to a strip near the Porcupine. The trip was over flat ground that stretched off forever, with a view bound only by smoke from a massive tundra fire. My compass was eratic, Loran useless. I stuck like glue to Phil and the Courier and experienced a strange out-of-body disorientation. Vertigo? Maybe. Nausea? No, I've never been there. The best I can say is that my gyros slowly tumbled in the absence of all other navigation fixes.
We landed and unloaded. Phil planned to return in a day or two and ferry the supplies into the camp's shorter strip with his SuperCub. We took off for Circle where we hoped to find fuel, but none was available at the airport.  No one blinked as we taxied through the gate then half a mile to a gas station in town. After stopping again for a quick soak at Circle Hot Springs twenty miles away, we made it back to Fairbanks by sunset, 11:30 pm.
The Shoemakers have come through Flagstaff a time or two since then. Once, on their way from Fairbanks to Florida, Phil and Rocky shared the SuperCub while teenagers Taj and Tia each piloted their own planes. When I returned to Alaska in 2009 to write about climate change, I knew I needed to pick their brains about what they had seen over the years.
For the twenty years, Phil, Rocky, and Tia have been living south of Katmai, running a hunting service that stretches seventy miles from King Salmon to Puale Bay. In the interval, Taj had been away, flying 180s in Africa. Tia had gone to college (in eastern Washington because the grouse hunting was best there) and has since returned to this American Serengeti. Jaegers, tundra swans, and sand hill cranes fill the skies. King and sockeye salmon crowd the Kejulik River. Moose munch among the willows. One grizzly, on average, tromps up and down every two miles of river bank.
We met at Nishigawa's in Anchorage in early June. Phil needed to ferry the Cub down to the Kejulik, open the camp up, then return to get his other plane. Two strips border the Shoemaker cabin, one a little more, the other a little less than a thousand feet. That sounded ok, but I asked self-consciously about my tires — 800x6s. Everybody in Alaska had been laughing about my little shopping-cart wheels. Phil thought the ground would be dry enough to support my Skywagon. Tia coughed into her sleeve, trying to hide her guffaw.
The trip down was spectacular as we flew the rim of Cook Inlet, past Redoubt Volcano that was still fussing and fuming after its March eruption, and across Lakes Clark and Iliamna. Arriving at the camp, Phil landed first off in the tundra on 32 inch tires. He rolled the bare tent frames off the runway that were meant to discourage visitors in his absence. I chose the runway aligned with the wind. So far so good. But as I touched down, I realized that the surface was a dead ringer for the soft gravel runaway truck ramps found on steep grades along highways in the West. I couldn't so much as touch a brake without digging in. At the end, I had to shut down and push the tail around to turn.
It was great to visit. The camp was cozy, the fire was warm. The Shoemakers had flown everything in, first by DC-6 from Anchorage to a beach along Shelikof Strait, then here with the Cub. The first winter they lived in their sleeping bags huddled around the wood stove; the inside of the cabin never warmed above 15 degrees Fahrenheit. Since then, better insulated, things have warmed quite a bit. Indeed, Phil and Rocky were pretty sure that their corner of the world had been warming inside and out; the previous summer they watched ptarmigan raise not one, but two clutches of chicks for the first time.
In the morning, the wind had shifted. I walked the other runway and found that the middle three hundred feet was pretty soft. I planned to taxi empty down to the other end, push the tail around, then load up. I got up to a brisk taxi speed and reduced to taxi power, expecting to float over the soft spot. But instead the main gear with those tiny tires dropped in, not quite to the hub. The Buzzard immediately stopped. The tail came up and I was sickened to hear the propellor snick a pebble before the tail fell back down.
Sickened. I stepped out of my low rider. I could barely look at the plane. A cherry-pit sized piece of aluminum was missing from one of the blades. Sickened. Phil showed up, already brandishing a file. Hell, the motor didn't stop, he said. We dug the Buzzard out of the mud, built an impromptu ramp out of plywood, smoothed over the ruts, and taxied to firmer ground. From the far end, The Buzzard had four hundred feet to be, if not airborne, at least light on its feet before reaching the mud.
Phil departed first with all the gear in a Cub that knows no limits. As he circled above me, I leapt to full power, cleared the bog, and clawed into the sky. There was definitely a vibration but I figured that I could live with it. We met up again in King Salmon where we parked the Cub and flew back in the Buzzard to civilization. On the ground, I emailed pictures of the blade tip to an Alaska prop shop manager. On the phone, I quickly drew a mental image of this gruff cigar-chomping veteran on the other end of the line who studied the pictures then said, "It's Alaska, son; get over it."