Leaving Vancouver, I overflew Lion's Gate Bridge, topped off in Powell River (at just under $10 a gallon!), and struck out over the Strait of Georgia. Comox was restricted and Campbell River was blotted out by rain, so the Buzzard kept us east of mid-channel. Tom Sisk i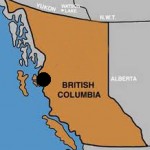 s aboard now, decked out in the bulky life jacket I brought along for him. A life raft prevents my seat from sliding back very far. Passing the north end of Vancouver Island, the GPS promises an airport-free hundred and twenty miles enroute to Bella Bella. No roads, no buildings, no traffic, no options beyond pressing on or turning back. I guess I could turn left for Hawaii but that seems like a lousy idea.
 So the world is THIS big: dark green water everywhere, surging over reefs, crashing against the rocky coast. I fix the position of a single sand beach northwest of Port Hardy in my mind's map. Forest claimed by the Heiltsuk tribe stretches unbroken toward the mainland. Does even one person live in any ten square miles of this country? Not likely. The motor sounds fine, and the ceiling that was fifteen hundred feet in Johnstone Strait is now broken at four thousand. Life is good. I wish I had floats.
Tom and I are here to learn about the route that oil tankers will take if a pipeline from the tar sands of Alberta punches across the Rockies and through the Coast Range to Kitimat. The quarter-mile long tankers, each carrying a couple million barrels of bitumen oil, would wheel and turn within a channel that in places is little more than a mile and a half wide. Winds in winter can easily exceed a hundred miles an hour. Tides rise and fall twenty-four feet at new moon. Risky business. The issues are complicated, a lot of money is at stake, and passions run as high as the tides on all sides. My job is to look down from my plane and honestly photograph what I see.
Flying these fjords is an act of faith. Faith in the motor. Hope that the wind will be gentle. Trust that visibility will remain at least reasonable. Normally I look at the oil pressure and temperature gauges every minute or two. But mist softens the view and the outside air is not much above freezing; I watch the fickle manifold pressure like a hawk, waiting for it to drop. With carb heat, the big Continental coughs out ice and I breathe again only when the engine runs smoothly.
Ah, floats. We park the Buzzard in Terrace and board a Beaver at the dock in Prince Rupert. Ryan, the pilot, is comfortable in this sky that is only a thousand feet tall. Rain streams over the windshield; eagles wheel and turn, eying us as we pass. The Beaver splashes down at Hartley Bay, a native village of a hundred and sixty souls. The Gitga'at people here live by and from the sea. We hear about orcas from eight-six year old Helen of the Killer Whale clan. We hear about Spirit Bears from Marvin who has been studying their ways for twenty years. We learn about Hermann and Janey who record fin and humpback whales from their solitary home on nearby Gill Island. All of this, the Gitga'at say, is at risk if the tankers come.
We return to Prince Rupert, then Terrace, and I leave Tom to his upcoming week of steelhead fishing. I try to explain things to my jealous Buzzard. It's cold and she is slow to start. But how can you ever explain infidelity? Really — a clunky old Beaver? Eventually the motor catches. Weather up the Skeena River canyon is dowdy with mist and a two thousand foot ceiling.  Daubs of cloud cling like cotton balls to the walls of the narrow valley. I give up and just fly with carb heat on. I squirt past Hazelton like a watermelon seed pressed between two fingers, shot toward Smithers. The next morning I radio back over my shoulder and hear that Terrace is down to four hundred feet broken in steady rain.
Twenty years ago on my way back from Alaska, I had limped from Dease Lake down to Smithers, attuned the entire way to the whiffling sound that turned out to be a cracked cylinder. I spent a week in Smithers then, waiting for the new cylinder, camping inside an open hanger occupied by a pretty 210-hp Cessna 170. The 170 is still there; I camp again under its cover from the rain. The Buzzard is tied down outside; raindrops roll down its cheek. This has been a rough day for her. Her motor is slow to catch again in the morning but we work it out.
Onward up the pipeline route. Morice Creek flows east out of the snowy Coast Range. The Buzzard and I build momentum and rebuild rapport, passing Burns Lake, Fort St James, and the Salmon River. Fuel in Prince George, then we push through the snowier Canadian Rockies. The wind is frisky or better; lenticulars stream like banners toward Grande Prairie. Fox Creek, Whitecourt. Then, best of all, Mike's Field, a turf strip nestled among farmlands on the outskirts of Edmonton. Mike says sure I can camp there.
I run out to Fort Saskatchewan and photograph Shell's Scotford refinery, and refuel at Villeneuve. Immediately upon returning to camp, I fall head over heals in love with the Field's resident mouser, a cat named Cat. She jumps in my lap and eyes the Buzzard as if it was another animal, a huge horse maybe. "Hello Pegasus," she seems to say.  I cook dinner and share some of the canned chicken that beefs up my predictable course of inflat-a-noodles. Cat purrs like there is no tomorrow.
City Center Airport in Edmonton is a pleasant bicycle ride from the university where I meet a biologist who has studied the tar sands' mutant fish. Sadly the airport's days are numbered; leaving Edmonton I see a row of industrial buildings that are laid out in a line suspiciously like an already-lost main runway. Then on to Calgary where I tie the Buzzard down for a few weeks while I retreat home commercially for a break. Flying the coast, photographing the pipeline route, and studying tar sands is an intimidating task. I would be disappointed to undertake anything less.